Interests & Hobbies
What I Like To Do For Fun:
Tentacles, I like to do tentacles....
Favorite Movies: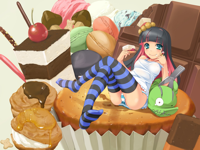 Panty Stocking and Garterbelt
Tank girl
The Nightmare Before Christmas
Resident Evil
28 days later
The Fifth Element
Shawn of the Dead
Hot fuzz

Hobbies:
Sewing
Hoola Hooping
Painting
Sculpting
Drawing
Baking
Crafting
andddddddd devouring worlds.

Perfect Mate:
Bruce Campbell
Perfect Date:
Renting some giant robots and then going for ice cream....