All things have a beginning and grow into form as more energy is added to it. Thoughts are like seeds planted in our fertile minds that bloom into our physical experience if we have nourished them. How to apply it: Stay focused and know that your goals will become reality when the time is right.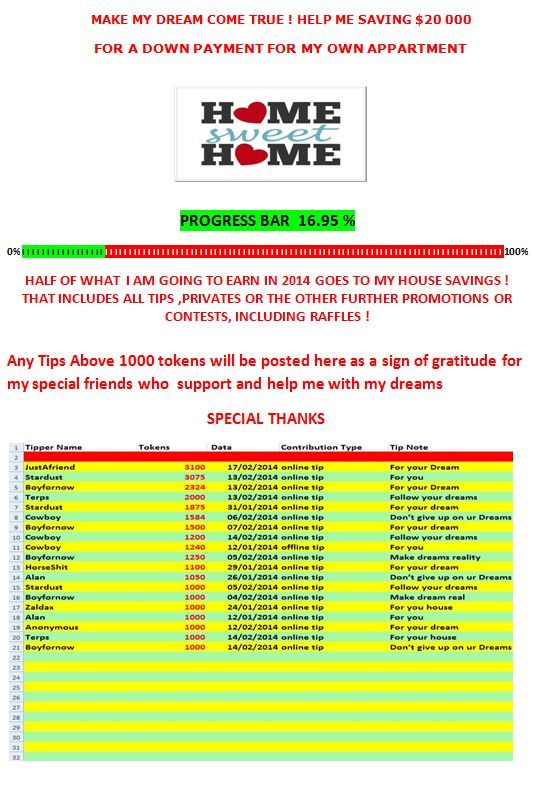 ***Rarely we cross paths with someone whose presence in your life compliments everything you stand for...
I'm gonna start my description with a quote by William Jennings Bryan: Destiny is not a matter of chance; it is a matter of choice. It is not a thing to be waited for, it is a thing to be achieved.
With the deepest gratitude I wish to Thank every person who has come into my life and inspired , touched and illuminated me through their presence in my Life.
Wanting to be someone else , is a waste of the person you are...
Nothing is more beautiful than a confident girl who doesn't pretend to be something she's not ... a girl who is down to earth and lets no guy define who she is ...
*** SOMETIMES i pretend to be NORMAL , but it gets boring ..so i go back to BEING ME.
***I am the girl who has a smile on her face when everythings going wrong, but i am the girl that can be in a crowded room and feel so alone!!!
I am the girl who tells herself everything will be alright , but i am that girl who cries herself to sleep. i am the girl who loves so many people , yet trust only a few!!!
I am that girl who seems like the happiest girl in the world,but all she does is worry !!!
I judge people easilly from my first impression ..and usualy the first impression last until you prove me I was wrong about it ...
Id rather wait forever for my perfect guy than settle for anybody.
I'm unpredictable and spontaneous ..I try to be forgiving , I love being unique ...Sometimes im really confident ...other times I feel so insecure ..
My friends mean everything to Me , but sometimes i just want to be Alone .
I won't kiss your ass for your tokens or attention, but you'll enjoy getting to know a REAL GIRL once you earn my respect.
Material possesions don't impress meyou can make anything look good on the outside but it means nothing if the inside is uglyI am very giving, I would give my last dollar or the shoes on my feet to someone who needs it more than me
Helping others and making others happy makes me happy
For one reason or another I have always chosen to take the difficult road instead of the simple one , but I like life so much better this way I have made many mistakes in my past, but have lessons learned from them all, I have come a long way in my life and I will never stop reaching for more.
I have moments when I really envy people who can fit so easily without even trying .
I have a huge dose of ambition and I am the definition of Stubborn , but I am Loyal , sincere and very caring .
I always try to see the best of you .. even if you annoy me .I'll always be here to listen your problems , making myself useful.
I hate when people make me feel guilty to get their way.. don't try to do that , its not gonna work with me .
This is Me ...Respect me , Love me , appreciate me for who I really Am. don't try to change me ...
***First of all let me thank you for being here and reading a bit more about me this might take some time , so you better get confortable and get yourself a coffee.
***As you probably noticed I am not quite the type of girl you thought you may found in MFC .. My Life started in a big city from Eastern Europe into a neighbourhood not so friendly Looking back in time , my life was never easy ...I have been through a lot, yet I regret nothing. I have good days and bad days, but I keep on smiling.My childhood was a very hard period of my life , with my parents broking up when I was 2 years old ...since then life was a continuous batle for me ..I had to do everything by myself , to make a living and to give myself the chance for a beter life.. for a normal life.
***I remember walking on the street going to school , and looking around me and I knew there was more to the life and world around me than what my eyes could see. I felt stuck, like there were so many unknown and infinite opportunities that I was not chasing.
***I told myself I will not fall in the trap of ignorance . Of not being able to recognize freedom. Life is too short to be bitter. I will live with a free spirit, a free soul and have 'unrealistic' goals. I followed my instincts and I started to read more about anything the thirst for knowledge was so powerful that I started to seek for my own answers in many plans..
***I was driven to understand and to learn about the world around me. And most importantly, I was driven to give myself a better chance . I had moments when I was just about to quit everything but yet , here I am chasing my goal , the goal of creating myself as human being.
***I began studying Finance in University In Bucharest. I loved economy because it was giving me the ilusion of something challenging , a field where the exact science get twisted with the freedom of innovation.. . I wanted to learn more , so I continued my college studies with an MBA..just because I want to know more and I want to open myself new doors, new opportunities ...
***I want to create something in the near future. I want to express myself and to put all my knoweleges to work for myself.. and create a life that is meaningful to me.My endless thirst of knowledge and my goals for a better life lead me to MFC..
***Holding a full-time job , was not enough for me to pay for rent, and the loans I have taken out for school taxes.. running into financial issues was somehow expected , but without these small tests and without ups and downs, life would be like a smooth paved , straight , flat road to nowhere.
***Nothing in life is conveniently laid out for you like that. Sometimes following your heart is a die hard battle. In Life , nothing worth having comes easy.
***As about me , All of You have probably noticed I am not an ordinary model..i am a well behaved woman ,i do not show my 'private parts' in Public Chat Room ...
***The way i choose to run my room here is totally my choice , you can accept that, or you should click next...A woman doesn't have to take her clothes off to be sexy, charming ,enchanting , to enjoy having her around You...
***As great as it could be , I want to make sure I stay true to myself, and who I am. The beauty of woman , is woman herself .. not just her out beauty...
***Everything has beauty , but not everyone seens it...Try to see a woman for who she is as individual.. We are all Unique..
***People who want to share time with me like me for who I am, not the person they wish I was.
***I'm still in search of myself and I sometimes feel like I'm looking in all the wrong places. I have high expectations of myself and of life.
***Often there are people who come into my room asking me why I am in MFC if im not getting naked in public shows?.. Simple, because it is not Me, because I don't want to. I decided I could be a part of this following my own way because I can not come all this way and work so hard to allow a little bump in the road make me lose grip of who I am.
***YES I understand what the MFC community is.. But I belive I can do this a little bit different and maybe unique I am sure there are persons here who can appreciate me , and I know there will be people who gonna hate me for this.. Appreciate the different , appreciate the genuine..
***I find it very pleasing to talk to people , to find new topics to discuss , Im fascinated about all kind of tabu topics Perhaps sex will not be something to come quickly in my room , but that doesnt mean that I'm against it...
***I just want to be taken for who I am , surely not perfect , but this is Me ..respect me as you want to be respected , treat me the way you want to be treated.. do not have high expectations and you wont get dissapointed ..
***Because I dont get naked in Public , my room is not as popular as others ,wich is good , I preffer 10 quality people around me to get to know eachother , instead 1000 usual mfc wankers. It makes girls like me quite vulnerable here , because its hard to make a living this way , but im sure the support and appreciation will come natural as a sign of respect .
***I never imagined myself working on a site like this , because I thought people would judge me as not fitting the job.. but in times i have come to understand that , if I cannot accept myself the way I am , how can I ask others to accept me ?...
***No price is too high to pay for the privilege of owning yourself. When you become and act the same as anyone else you lose your uniqueness and appeal, so you lose the property of owning your own fate...I realised soon that it has become the very reason that makes me different ....simply because I am a classy girl and not considered a norm on MFC.
***I do not possess some special power or some special sexual skill.. Perhaps if I was a good actress or I has some kind of sexual skills I would have chosen to use them in my attempt of making a living..
***I have an actual heart, and a mind with constant running thoughts..
***I am ME..
***That being said, I'm in no rush to grow up; I'm still very much a little girl inside and I love that. I am probably one of the nicest girls you'll ever meet but push me in the wrong direction and I could be the biggest bitch. Many people have come and gone in my life, but only a few have left a lasting impression...
***I bet you anything I can make you smile when you're sad. I am here to share everything that I am and all of what's me, nothing less. I hold value in staying true and at the end of the day, it's you who decides whether the girl behind these thoughts is worthy or not.
***I'm not afraid to speak my mind; in fact I do that quite often. I am easily entertained, and even more easily amused. I believe in every human being as an individual.
***My name is Bianca, although I am mostly known as Kate
***WELCOME to my room! I hope we will share some great times here! Feel free to be YOU. Respect me and I will respect you. Treat me well and I am confident that I will make you happy.
***Honestly i do not cosider myself a model...I'm just a normal girl.... I prefer to chat in public and use PM only for really personal things ..
***The KateJenkins Club (room) is unique and is not for just Anyone... Only Quality Characters keep coming back to my room. My friends are friends with each other as well as with me.
*** I ask you to respect everyone in my room and try to keep a decent level of humour and intelligence in our chats. We respect everyone and I hope we can find more and more quality people every day to join us and to support the room any way they can.
***You can easily click Next to find thousands of girls willing to bend over for your tokens, so hopefully you can respect me enough to be kind and supportive in my decision to be here as a real woman, as myself.
***If you aren't here just to be pleased by girls ; if you see a woman as your equal, not merely as a tool for your selfish entertainment,if you are an opened mind and leave outside of my room all the misconceptions about models and cam girls, then you are welcome to join us!
***Thank you very much for taking your time to read about me.. For your interest in me, and for your patience and respect. It is not easy for me to be on a site like MFC , and its even harder when you do this job a little bit against the river curent.. and for that I do not ask you to like me and I totally understand if you have different beliefs or views about this job...
***I am not here to please everyones needs and to belive that I can be liked by everyone is unrealistic.But I will never understand the hateful people who is trying to put me down for not being who they want me to be.
***I have no control over who comes in my room , who decide to get to know a little more about me or who decide to become a hatter but I do hope there will be people who are going to respect me as their equal , to appreciate me for being me , and to support me in this amazing journey called Life wich at this point has led me here in MFC.
***I only accept PM's from friends, and I only become friends with my most dedicated, comfortable, and kind individuals. . Earn my trust, and I hold nothing back.If you're on this list, then that means you're special, and have shown me unfaltering kindness and consideration, you have shown me endless respect and appreciation.
***To become a friend is a bit more complicated , it takes time , courage , patience and williness ..And that is just for the begining , because you do have to find yourself in my room , you have to share some very heathy values such as honesty, integrity, respect, honor ,friendship,kindness,manners,optimism and most of all , you have to belive in yourself as a masterpiece of your own life.
***The secret of this room , and what hold us together beside the values and the principles we shared , is 'The Law of Atraction'.
***'Law of Attraction' principle posits that feelings and thoughts can attract events, from the workings of the cosmos to interactions among individuals in their physical, emotional, and professional affairs..I belief that 'like attracts like', that positive and negative thinking bring about positive and negative physical results ...if you make good to people,that good will come back to you in different forms...because everything has an energy and energy is forever moving into form through form and back into form...
***I want to Thank You for your time , for reading those couple words 'About Me' and im sure that i opened a curiosity feeling inside you... Once again thank you for sharing the most preciouse gift you could share with someone on Earth.. that is your 'TIME'...
***People here are used to say that everything has a price , and maybe they right...i keep use to say one thing ...you may buy everything you want , with money , but You CANNOT BUY MORE TIME FOR YOUR LIFE '...So THANK YOU for sharing a little preciouse piece of your lifetime with me .
***Right under those lines you can Vote, Rate or Admire me .THANK YOU
********Locked Photos*******
500 tokens for ALL Passwords