Interests & Hobbies
Meaning of Life:
Life is full of shit and always ain't fair, I'm used to it HAHA! I love life with the ups and downs, it makes our life more exciting and meaningful. Carpe Diem =)
Five Things I Can't Live Without:
nothing on material things except for my computer lol...love it
Favorite Books: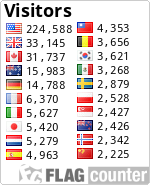 Free counters
What I Like To Do For Fun:
beach. trekking and spelunking. I'm a lil bit adventurous and I love Nature. Shopping is no fun.
Craziest Thing I've Ever Done:
oh nothing craziest thing happened in my life. will you help me to do one crazy thing that i wouldnt forget? wink lol
If I Could Be Anywhere Right Now:
travelling exploring new beautiful places
Talents:
it's for you to find out.
Perfect Mate:
My horny match :P
Perfect Date:
Can be anywhere as long as I'm Happy with my date.
Turn Ons/Offs:
Turn off with men who always brag with his size :P size doesnt matter lol. Arrogant and has a big mouth than me and full of BS.
Best Reason to Get to Know Me:
I'am who I'am. Im pretty laidback, love to laugh, sensible and very sensual. It's just simply me, nothing more nothing less. The more u talk to me the more u'll know me better.