Interests & Hobbies
Meaning of Life:
Eat then poop then eat then sex then poop then eat! Hopefully the last thing I do before I die isn't pooping!
Five Things I Can't Live Without:
Aside from the ACTUAL things I can't live without. My dog tops my list! My costumes are my pride, my computer keeps me sane, my toys keep me from getting stressed, and surprises make me perpetually happy!
Favorite Books:
Harry Potter, Zombie Survival Guide, Where's Waldo, Green Eggs and Ham, Pop Up Books

What I Like To Do For Fun:
If you would like to contribute to my arsenal please take a look at my wishlist linked in the picture below!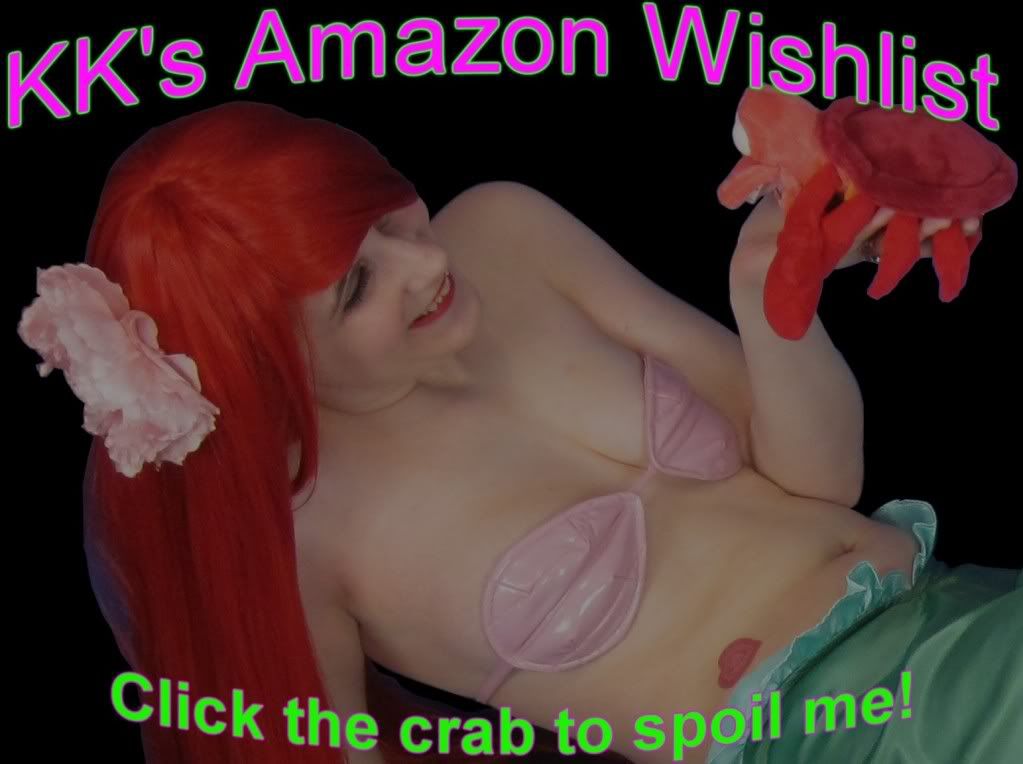 Favorite Movies:
The movies that I control with a console controller! First off, I don't play FPS games and I don't have any intention to start. I love RPGs and CRPGs, but I don't have as much time to play them anymore since I work this 2nd job. Back before real life kicked in after school was over I used to have time for multiple RPGs at the same time, but now that I only have a couple hours a day to devote to my games I try to avoid never ending games (I played WoW from 2004-2009) I toggle between my systems all the time, I still have my old systems plugged in and ready to roll including my Sega Genesis, Nintendo and N64. My favourite system was my Super Nintendo before it was destroyed in a flood :( Since that happened I started using my Wii as a Super Nintendo with my Wii Points! I have all the 7th generation consoles and a Wii U! My PS3 is AWESOME since I have the original version that came out and it's backwards compatible with my PS and PS2 games :D
Craziest Thing I've Ever Done:
I've done some crazy things over the years. My first lesbian experience was a drunk experience in front of a crowd at a Halloween party, I've had sex in a dog park, and I've even taken off all my clothes and masturbated in front of a webcam while connected to the internet with up to a couple thousand people watching me all at once! But the craziest thing I've ever done involved the Mission Space ride in Epcot at Walt Disney World! I had been looking for an opportunity and finally I had it! I got a pod all to myself and decided now was the time! I pulled up my dress, pulled my panties aside and fingered myself until the ride was over! ... Did I mention that I brought a video camera onto the ride with me and that video is available for sale on my profile? :D
If I Could Be Anywhere Right Now:
Inside a video game! Virtual boy was such a let down lol
Hobbies:
DIRECT YOUR TOKENS! These tokens will NOT count towards my goal!!! Simply tip me with a note telling me what you want me to put the tokens towards! 2. 20/30'000 - Raising money to buy a Sybian! I'll order it the same day that this goal is reached!
Talents:
How to conquer Kosplay_Keri This will count towards the goal! 5 - Spank that ass once! 10 - A nice hard titty slap! 50 - Spank my ass until it's red! 75 - Queefing! I can queef with party blowers too! Extra features :p This stuff will NOT count towards the goal! 20 - ''So you like donuts eh?''Buy me a donut, get access to my donut gallery and watch as I add a new photo with your tip! 200 - ''Down the hatch''Buy me an alcoholic drink! (Max 5 per night) 400 - ''Dance monkey!'' Choose a mascot for me to dance in! I will eventually emerge from the mascot sweaty and naked! 500 - ''Change bitch! I don't like this costume!'' I'll change into any of my costumes! 666 - ''Unholy shout!'' Tip me during a show and I will scream out any name you wish at climax! 800 - ''Join the 5 Inch high club!'' Heel fuck my Red or Black heels! (or both?) 1200 - ''You're doing it wrong!'' Anal lightsaber fuck show! 3000 - ''I'm all naked and wet!'' Time for me to get in the shower! 5000 - ''Low health! Quaff a potion!''Take a big shot of lube! 10'000 - ''The Colossus is real!'' I pull out a huge fucking dildo and experience reverse child birth! (never used it yet!) 15'005 - Make this cock yours! For the next half hour I will suck your cock (Gloryhole style) without a break! 25'000 - ''Cum bitch cum!'' For a solid hour I will go through my toys and see how many times I can cum in 60 minutes!
Perfect Mate:
These are the awesome gifts you guys bought for me <3 Axiom - Harley Quinn costume BlewsAttack - Super Mario plush throw blanket Bobafetish - Donatello costume Crazytim1 - Wild G vibrator Damien Mist - HUGE dildo aka the Beast! Dex_Machina - Sailor Mercury Wig Heelluver - Red Heels Heelluver- Black Pumps Heelluver - Orange Sailor Venus Shoes Heelluver - Sailor Saturn shirt and Pillsbury frosting! Heelluver - Count Chocula, Halloween Cake mix and frosting! Heelluver - Christmas Cake mix and frosting and a T-Shirt! Invictablake - $50.00 Amazon gift card (Gifted AFTER he bought the Batman porno!) John Miseo - King size Pink Plush Playboy throw blanket! Neednudegirls - Batman Special Edition DVDs! Nintendork - 100% Silk hand painted Kimono Nintendork - 100% Silk white Nightgown Nintendork - Dr. Whooves plushy! Nintendork - Flutteryshy plushy! Nintendork - Joker snuggy! Nintendork - Batman TAS - Volume 1! Quazvizard - Ariel wig Quaxvizard - Sailor Mercury costume Quaxvizard - Sailor Saturn costume/boots Quaxvizard - Futurama DVD collection bender head! Quaxvizard - HD Video camera (This changed my life :D) Quaxvizard - Ryu costume Quaxvizard - Elton John in performance concert DVD Quaxvizard - WeVibe Skoll - Elton John/Billy Joel concert DVD Veelix - Fatal Frame III for PS2 Veelix - Star Trek Uniform costume Yourmom26 - Hinata Hyuga costume Zardoom - Hitachi/Gonzo Zardoom - Sailor Venus wig Zardoom - Sailor Venus costume Zardoom - Sailor Moon wig Zardoom - Sailor Moon costume Zardoom - Sailor Pluto costume Zardoom - Sailor Pluto wig
Best Reason to Get to Know Me:
Because I can defend your ass when the zombie apocalypse starts! Oh! And I like snusnu!