Interests & Hobbies
Meaning of Life:
still searching for that
Five Things I Can't Live Without:
music, food and laughs
Favorite Books:
Sweet Persuasion Across the wind
What I Like To Do For Fun:
go out and have drinks with my girls
Favorite Songs:
arabic, indian, pop
Favorite Movies:
science-fiction bollywood comedies
Craziest Thing I've Ever Done:
i left everything and started everything all over.
If I Could Be Anywhere Right Now:
a beach
Hobbies:
photography and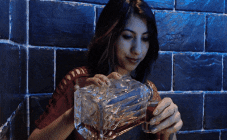 Talents:
if u get to know me u will know my talents also
Perfect Mate:
he should be the one who worships me
Perfect Date:
a day for me only, far from city..
Turn Ons/Offs:
I am not here to be turned off and don't even try to.
Best Reason to Get to Know Me:
u should know me to get to know the best reason for that :)