Interests & Hobbies
Meaning of Life:
To live every moment like it's the last one !
Five Things I Can't Live Without:
Food and water :)))))) phone , mfc and my friends/family :P
Favorite Books:
Pride and Prejudice ; 50 shades of grey ; Kamasutra :))
What I Like To Do For Fun:
For fun I like to make new tattoos :)))) Joke! I like to go out with girls,maybe drink a few tequila shots and laugh all night :)) I also have fun in here, lot of fun!
Favorite Songs:
I like all kinds of music...Actually I love music a lot! I love song requests :P I'm curious what music you listen :)
Favorite Movies:
All new movies and series :) From action movies to comedy, romance, horror or porn :P
Craziest Thing I've Ever Done:
I've done a few...maybe I'll tell you more in privacy, after I get to know you too ...and we can share the craziest experiences with eachother !
If I Could Be Anywhere Right Now:
I would be.......right here with you guys ;)
Hobbies:
Long walks in nature, maybe on the side of the beach with my legs in the water :P Clubs so and so, more like pubs girl :)) Music and moviesss ! And of course MFC and making lots of friends from all over the world !
Talents: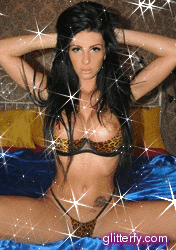 [Glitterfy.com - *Glitter Photos*]
Perfect Mate:
The one who can handle me in day by day life and also in bed :))
Perfect Date:
I guess, it could be on that beach from *HOBBIES* :)) It would be nice to have you there with me, holding my hand...Or maybe hiding over some palms and touching eachother under the clothes Meaning of Life To live every moment like it's the last one !
Turn Ons/Offs:
It turns me on when you are a pervy gentleman :P :)) I like guys who treat me with respect but also who are funny and playful like me :P I usually wanna have a lot of fun and I don't like boring people !
Best Reason to Get to Know Me:
I can give great orgasms :)))) half-joke :P Because I'm unique :)