Interests & Hobbies
Meaning of Life:

I think it involves enjoying life with your loved ones... and accepting life's daily gifts no matter how big or small...
many of them will surprise you and make your life happy .
Five Things I Can't Live Without:
Family, internet, health, true love and money
Favorite Books:
Who has time to read? LOL
What I Like To Do For Fun:
Drinking, shopping, watch movies, walks in the park and lake, cruising downtown, picking fights with people,
play pool (billiards), and going to clubs mostly.
Favorite Songs:

I like all kinds of music.. underground and mainstream rap, rock/ metal, gothic, techno, house, dance music, reggaeton
but from some of them i just the music ( some got stupid lyrics ) lol ..on my playlist are some i like ..
enjoy and beware of the noisy ones :P
Favorite Movies:
A whole lot .. some of them are :
nightmare on elm st, friday the 13th, halloween, saw, blood in blood out, underworld, resident evil, hostel, blade, superbad, role models,
harold and kumar, jay and silent bob, 13 game of death, death race, dawn of the death, final destination, van helsin, hell boy,
47 ronin , in the name of the king, zombieland, legion, etc .. too many more
Craziest Thing I've Ever Done:
I'm not telling, i'll take them to my grave
If I Could Be Anywhere Right Now:
Strip Clubs for life
Hobbies:

Writing dark poems and does spending lots of time on my computer count as one??
Talents:
Well i cant think of any... but being friendly could be one :P
Perfect Mate:

Beautiful beyond words to keep faithful to her everyday of my life...
Perfect Date:

Somewhere that she wouldnt expect..im just like that :)
Turn Ons/Offs:
Turn ons:
A pretty, wild, funny, rocker, sexy teaser and shy girl with that special charm that makes her attractive....
( with her hair down and that likes to wear many outfits and dances so incredibly amazing that takes my breath away )
Turn offs:
Liers, cheaters, braggers & disrespectful people

Best Reason to Get to Know Me:
TRY TO FIND OUT .. MANY HAVE TRIED BUT FAILED ..DO YOU FEEL LUCKY ?
I'LL ANALIZE YOU...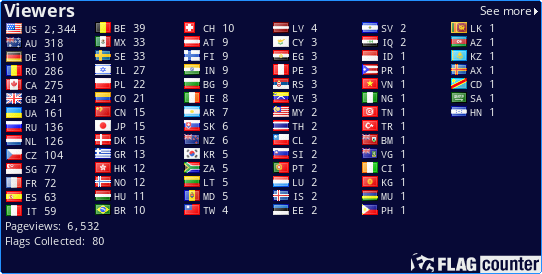 Flag counter added Oct 24,2013 and just for bragging reasons lol