Interests & Hobbies
Meaning of Life:

Five Things I Can't Live Without: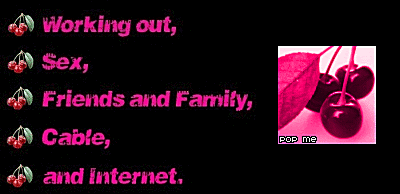 Favorite Books:
There are so many favorites.
What I Like To Do For Fun:
Watch tv/movies,camping,hiking,yoga,working out to Julian Micheals I love her! I like to read for fun,draw,surf the net going out for breakfast lunch or dinner, going out to a movie with a buddie.Hiking, renting movies and having fmf 3 somes!
Favorite Songs:
I listen to a bit of everything pop hip hop techno oldies,romantic music rock
Favorite Movies:
Marley and me,Superbad,XXX,National teasures 1 and 2,gone in 60 seconds,Fast and furious, etc
Craziest Thing I've Ever Done:
Putting an icecube into my vajayjay until it melts.And camming!
If I Could Be Anywhere Right Now:
Playing my ps3 naked with a smoothie lol.
Hobbies:
I like to fish,hunt,collect lingerie,jewelry,make up and shoes.And I like to cam as a hobby too =D.
Talents:
I can sing,I can make you laugh and I will make u fall in love with me.
Perfect Mate:
outgoing confident very social, ,kind and respectful,romantic.
Perfect Date:
Going out to dinner for steak or a burger with a coke and then go out for a movie and cuddle up.
Turn Ons/Offs:
turn ons are people that treat me like a queen with respect,that say hi when they come into my room.Tips turn me on to.
Turn offs are beggars and people who think they can order me around like their pet slut, people who think when they say i love u they get what they want.Do not ask me about my personal life I am here to make you cum not to be your girlfriend. Also I prefer the private messages be used for buisness only. If you want to talk to me privately take my private please.
Best Reason to Get to Know Me:
I keep it real I actually care about you and your problems if you need to get something of your chest. iam not fake i will not pretend to be someone im not or pretend im listening to you. i answer your questions honestly and if I hurt your feelings I'm sorry =(. Iam outgoing,funny,smart and sexy and I enjoy the time we spend together and I do love compliments and I can make you feel like your the number one person in the world!
also if you have any ideas for me about a new show mfc mail me and I will get to them as soon as I can!