Interests & Hobbies
Meaning of Life:
Take life by the horns... You only get one, so make your mark in history. If you don't die shining then you didn't do your job. I'm here to have fun so come party with me!
Five Things I Can't Live Without:
Family, Friends, Lipstick, Music, Fashion.
Favorite Books:
How To Make Love Like a Pornstar, Judy Bloom, The Rum Diaries, Bunny Tales:behind closed doors at the Playboy Mansion, Fear and Loathing in Las Vegas, Stephen King.
What I Like To Do For Fun:
90% of the time MASTURBATE! The other 10% Hangout with friends, dancing, acting like a complete dork and loving it, shopping, creating beautiful hair, trying out new makeup, getting tattooed.
Favorite Songs:
Frank Sinatra, Biggie Smalls, Converge, Ghost B.C., Jay-Z, Wu Tang Clan, Sublime, Slayer, Brand New, Pink Floyd, Tegan and Sara, Mac Miller, Led Zeppelin, Rancid, Kid Cudi, Nicki Minaj, Lil Wayne, ASAP Rocky, Bermuda, Whitechapel.
Favorite Movies:
American Gangster, Wolf of Wall Street, The Other Woman, Dead Alive, The Heat, Cry Baby, Fear and Loathing in Las Vegas, This Is The End, Anchorman, Liar Liar, Evil Dead, Clueless, Old School Horror Flicks.
Craziest Thing I've Ever Done: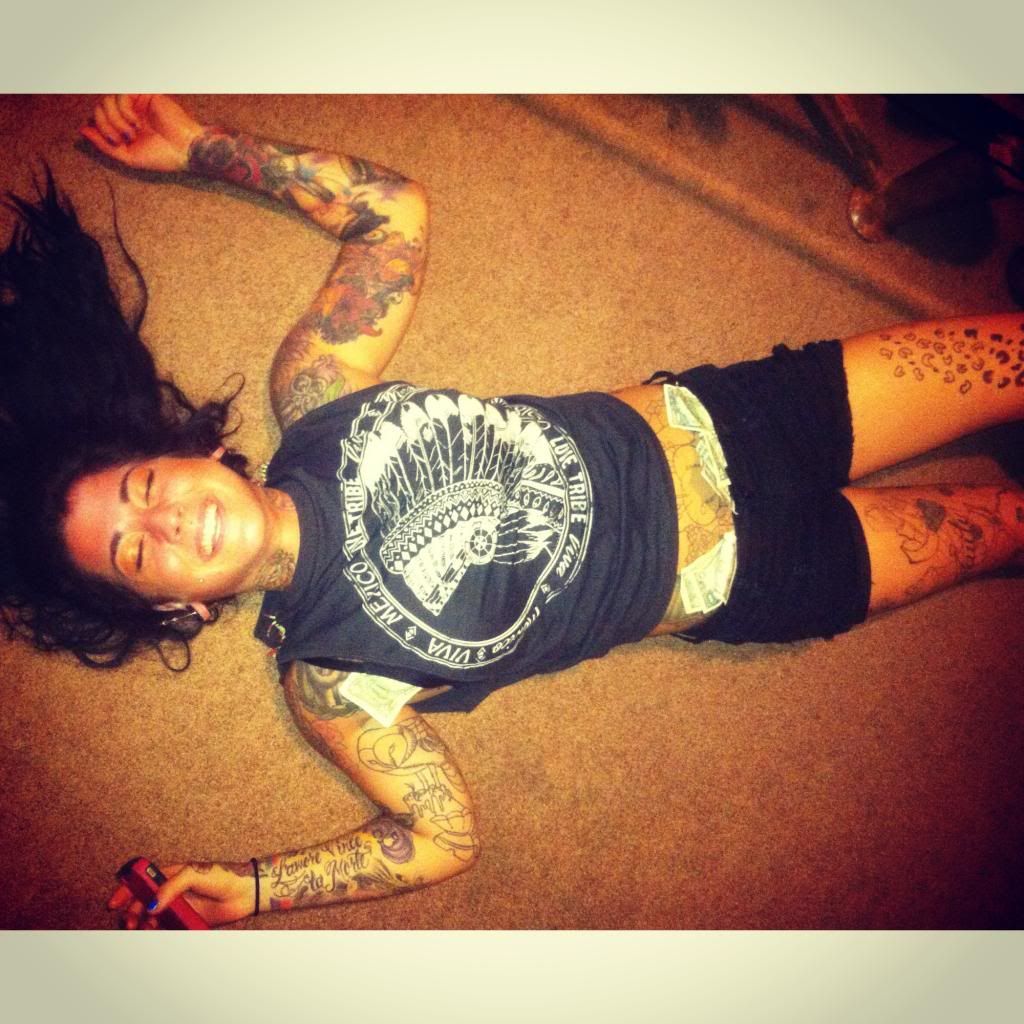 If I Could Be Anywhere Right Now:
NEW ZEALAND!


Hobbies:
Makeup Artistry, Corset Waist Training, Being a total Nymph, Boob Connoisseur, Teasing Extraordinaire, Painting, Baking, Working Out, Designing Clothing.
Talents:
Constantly teasing, athlete of all kinds, teaser.
Perfect Mate:
Old school romantic, suave and classy with a rougher side. Anyone that can make me laugh and keep a smile on my face is okay in my book...keep up with me ;)
Perfect Date:
Spa Day and then wine later on at a nice private spot under the stars.
Turn Ons/Offs:
Turn Ons: Neck/Ear biting, Teasing, Confidence. Turn Offs: Arrogance, Cheap Dates.
Best Reason to Get to Know Me:
I'm a confident girl with a mysterious side. I'm definitely a jack of all trades and once you get to know me, you'll want to know more.